Pokemon: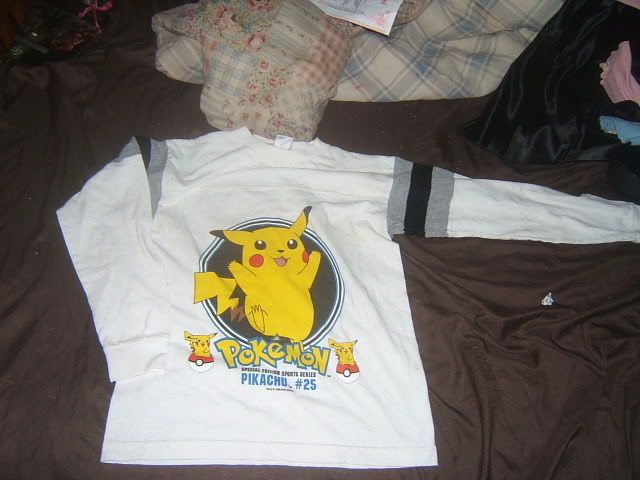 Pikachu long-sleeved shirt
Thick long-sleeved cotton shirt from 1999, boys' medium, with art of Pikachu on the front.
$15
Pikachu mini ball
Mini play ball, a bit deflated but can be re-inflated.
$2
Squishy figures
These are squishy Pokemon figures.
large: $6
Pokemon available:
Pikachu, Squirtle, Venusaur, Oddish, Charmander, Snorlax
small: $3
Pokemon available:
Squirtle, Eevee, Bulbasaur, Snorlax, Pikachu, Clefairy
Jakks Figures
$3 each, perfect condition
Aipom, Chatot, Buizel
or get all three for $8
CARDS
pricing:
.10 (common)
.25 (uncommon)
$1.00 common/uncommon reverse holos
$1.50 (rare non holo) or one free with every $5 worth of cards (while supplies last)
$2 (rare, holo)
$3 rare holos
$3.50 rare reverse holo
LV X: Infernape and Torterra black star promos
$5 each or buy 2 $10 lucky packs (you choose which one you want)
LUCKY PACKS- 50 cards for $5, 100 cards for $10
specify a type/types (from the TCG or game).
each lucky pack is a lot of 50 (?) cards, mostly common/uncommon, from various sets, with several reverse holos/rares/holos, while supplies last.
I will list all rares/reverse holos once I get one together. On commons, feel free to ask by Pokemon/set.